Pumpkin Fluff Dip | "I work at a GM plant in Ohio, and brought this in and passed it around for Halloween with Nilla Wafers. At least 20 people tried it, and everyone LOVED it!" —Martika

See this easy recipe: http://bit.ly/192QVLY
Everything you need to know for Halloween—including how to roast pumpkin seeds—all in one place. What new trick will you learn on our Halloween page?

Check it out: http://bit.ly/17OjvNt
"Hot dogs are all wrapped up in a classic recipe for Halloween…or anytime a chuckle is in order."
Get the recipe to make your version today! http://bit.ly/1aqJlLo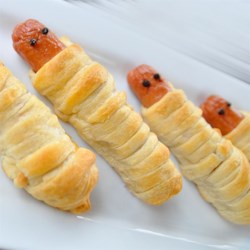 "These were delicious. I make them every year around Halloween, the kids are always anxious for them. Posted them on Facebook and had a ton of friends want to try them (and for all that did, not one gave a bad review.) Delicious with ketchup or mustard!" -Faith N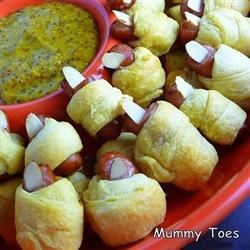 Too cute! I had to make them tonight for dinner! They were a hit, the kids loved them!" -MichaeleM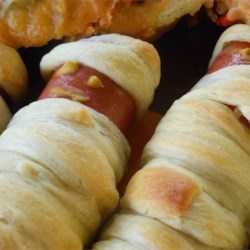 "Made for our Halloween party and it was so good that they were all gone before I got one! I started making the strips really skinny to make it look more like a mummy, but the skinny AND fat strips of crescent dough both looked cute!" -Heather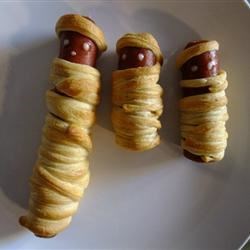 "Fun party food. Had the kids assemble them. A hit with the kids … what is not to like? Used turkey dogs to cut down on the grease." -NVGril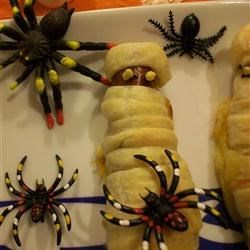 "Great idea for the kids..I used a pizza cutter for the dough. Fun and easy." -jadedgurl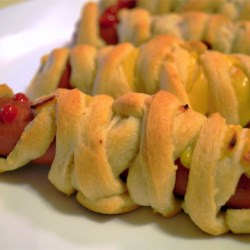 "These have been a staple on our Halloween menu for four years now and we still love them. They are quick and easy, and best of all the little guy loves them!" -korilynne
"These were cute. i served these to my 5 and 3 year-old girls for Halloween lunch along with vampire blood (cherry kool-aid)and they loved it. was something different and themed." -gerrietp
Halloween is Coming! Our Favorite New Photos on Allrecipes: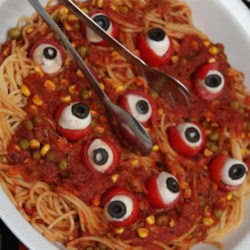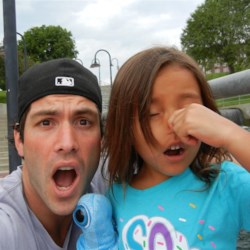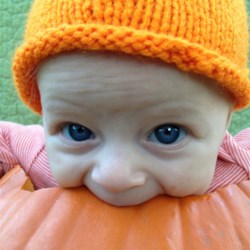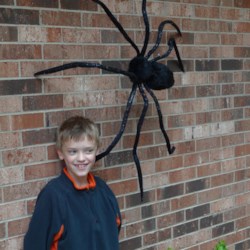 Trending: Cranberry sauce, Pumpkin seeds, Turkey brine and Brussel sprouts.
New Recipes:
Autumn Butternut Squash Casserole
Baked Apple and Kale Casserole
Banana Chocolate Chip Pancakes
Cheesy Slow Cooker White Chili
Eyeballs for Halloween Spaghetti
Leftover Halloween Candy Brownies!
Peanutty Candy Corn Cereal Bars
Slow Cooker Bacon-Ranch Beer-Can Turkey
These simple tricks make bat cupcakes, spider cupcakes, worm cupcakes—even a cupcake graveyard—a no-brainer. Happy haunting!
You may have noticed a new icon when recipes don't have a photo. You see this:
Adding photos to recipes just got a whole lot easier now that you can add photos directly from your phone to recipes. With all these exciting new features, we are having a monthly 'Faceless Recipe Contest'. We want you to show us the products of all your hard work in the kitchen by posting photos to all those great recipes that remain 'faceless'.
Here are the rules:
Go to the collection of recipes called 

Faceless Recipes

Prepare one of the recipes, snap a picture, and be the first to post a photo

Post a link to the recipe in the comment field of this blog post
Whoever has the most pictures at the end of each month wins! If there is a tie, we'll draw a name.The winner will receive a 1 year Pro Membership
How to upload a photo from your phone:
Navigate to http://m.allrecipes.com and log into your account. Locate the recipe you want. Under the photo, press the 'Snap' button and decide if you wish to take a photo or upload a photo you've already taken.
Once you have added your photo, you will see confirmation of the upload below the 'Snap' button. That's it! Once your photo has been approved it will be added to this recipe's photo collection.
How to upload a photo from your computer:
Before you begin, make sure the photo you want to upload is already on your computer's hard drive.
When viewing a recipe page, click 'Add a photo' on the faceless photo. From there, you'll be able to submit your own photo of the completed recipe by clicking on 'add a photo'. You can also click 'Add a photo' next to 'Rate this recipe'.
Select Choose File to find the photo on your computer. Once you find the photo, select Continue to upload the photo.
Once your photo has been uploaded, you may crop the photo by selecting the area you would like to save using the tools in the cropping feature. Once you have uploaded your photo and are happy with it, select Save and Add.
Please note that the photo:
Must be in the format of either a jpg/jpeg, gif, or png
Must not exceed 4 MB 
Must be no smaller than 960 pixels x 960 pixels
Ready, set, snap a photo!
Our community can't resist this five-star recipe for Peanut Butter Cup Cookies! 

And once you bake your batch, share your cookie photo right from the recipe page on our mobile site. http://bit.ly/H5Rr1H